Bliss is as close as your own back door with a pillow-plumped swing.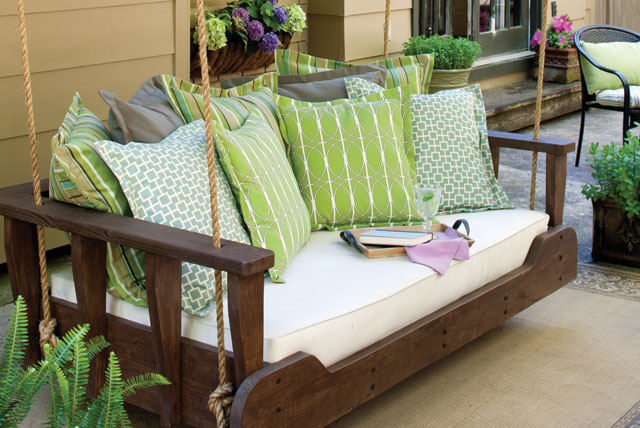 Picture this: You've just polished off a dinner that included fresh-from-the-garden tomatoes, perfectly seasoned lady peas, and homemade cornbread. There's a bit of a breeze stirring, and the crickets are just tuning up for a sundown serenade. Ah, there's a dilemma. Do you do the dishes—or do you slip away to the back-porch swing for a front-row seat? Well, we know what we'd do. We would head straight for this cozy swing, piled high with comfy pillows and just begging to sway to the rhythm of summer sounds.
Leigh Pate, of Pate-Meadows Designs (patemeadows.com), and her husband, Doug, built the swing from scratch. Then Leigh stitched up a bunch of pillows from durable outdoor fabrics in several coordinating colors and patterns. The result is a practical yet pretty swinging settee that is impossible to resist. The couple find themselves spending more and more time in their backyard retreat, and who can blame them? Dishes will wait—musical crickets, on the other hand, will not.